At the March 22nd Connect•Work•Thrive Conference,
Kelly will facilitate the workshops
Your Hidden Talents are a Gold Mine! and
Returning to Work: Is It Really Worth It?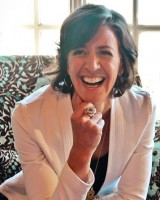 Career Stylist and Founder, KellyStuder.com
With more than 12 years of recruitment and leadership experience in the technology and consulting industries at companies including Google, Salesforce.com, Sapient, and Accenture, Kelly has seen it all…the good, bad, and the ugly on what can make or break landing a job.  As a recruiter, hiring manager, and leader, Kelly has reviewed thousands of resumes, conducted hundreds of interviews, and negotiated a plethora of offers at some of the toughest companies which has given her a unique and educated perspective on job search strategies that really work and what sets job seekers apart from the crowd.
Now, as a career stylist, Kelly helps mid-career professionals identify and clearly define their ideal career path, create the necessary tools and strategic plan for obtaining it, and develop a deliberate personal brand that allows them to be completely authentic and confident in order to effortlessly attract what they desire.  This empowers each client to be the designer, creator and leader of their career.
Kelly earned her BA at UCLA and is a graduate of the Coaches Training Institute (CTI) Leadership Program.