At the Connect•Work•Thrive Conference,
Vivian will deliver the Luncheon Keynote address:
Top Strategies for Returning to Work
Vivian will also facilitate the workshop:
Assessing Your Career Options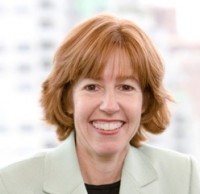 Co-founder, iRelaunch
Co-author, Back on the Career Track:
A Guide for Stay-at-Home Moms
Who Want to Return to Work
Vivian Steir Rabin is the co-author of the acclaimed career reentry strategy book Back on the Career Track: A Guide for Stay-at-Home Moms Who Want to Return to Work and the co-founder of career reentry programming company iRelaunch. iRelaunch's signature product is the iRelaunch Return to Work Conference, which has attracted nearly 3,000 attendees across the US and in London. iRelaunch also creates customized career reentry programs for companies, universities and other organizations.
Vivian has over twenty years of diverse business experience, including increasing leadership roles in finance and human resources, in the media, financial services, and consulting industries. She took a seven-year career break while raising her five children (currently ages 15 to 23) and relaunched her career by joining a small executive search firm, prior to founding iRelaunch.  In addition to co-managing iRelaunch, she continues to conduct executive searches via her own firm, VSR Advisors.
Vivian is a graduate of Harvard College and Harvard Business School. She and her iRelaunch Co-founder Carol Fishman Cohen have presented their return to work strategies to over 10,000 people at more than 150 events since 2006, and they have received extensive national press.