At the May 1st Connect•Work•Thrive Conference
Ruth will deliver the Keynote Address
Coming Alive: The Journey to Reengage Your Life and Career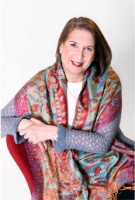 Author, Coming Alive:
The Journey to Reengage Your Life and Career
Ruth Ross spent 30 years as a senior human resources leader at top Fortune 100 companies in New York and San Francisco, including serving as an Executive Vice President at Wells Fargo Bank, from which she retired in 2011 to start her own company focusing on the critical imperative of engagement, both in your life and your career. She holds a BS in Human Development and Business from Syracuse University, and a MS in Counseling from Northeastern University.
Ruth has a personal passion for identifying and reengaging the disengaged individual. This stems from her own face-in-the-mirror moment when she took a long look at herself and took stock of how she was feeling. As a successful HR executive, she looked around at the trappings that come with a big job and wondered why she felt invisible and not excited about the work she was doing. After putting a name to these feelings and admitting she was disengaged, she set off on a new path as an advocate for reengagement.
Her first book, Coming Alive: The Journey to Reengage Your Life And Career is coming out in June and she can't wait to celebrate with her incredibly supportive husband Sandy!