At the May 1st Connect•Work•Thrive Conference
Connie will facilitate the workshop
Raise Your Hand!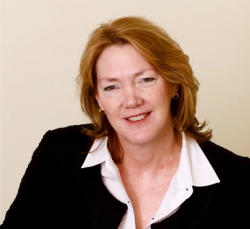 President, CharlesRiverCFO
Connie Wright is President of CharlesRiverCFO, a professional services accounting solutions firm. As co-founder, she leads the Strategic Services Practice that provides technical accounting and financial assistance to companies navigate their strategic transactions as an IPO, M&A or divestiture. Connie works with clients to solve their accounting infrastructure needs.
Ongoing is her role as Managing Principal at CommonwealthPacific Ventures, an angel investing firm. She manages the team at CPV overseeing the portfolio for certain investments.
Connie also works with firms and individuals on leadership issues and opportunities and serves as a mentor to professionals. Recently, she launched a Leadership and Mentoring Program at Stanford University. Connie sits on the boards of directors at Center for Women and Enterprise (CWE), on the Massachusetts Growth Capital Corp (MGCC) and YWCA Boston, heading the audit committee for CWE and MGCC & is on the advisory board of Decision Insight. She tweets as CFOBiz & on FaceBook as CFOBiz. She advises companies on accounting & financial matters, specializes in M&A, Pre-IPO & SEC, SOX and SAS 115.
Previously, she was the Managing Partner of Patina Solutions Boston Practice, a professional services firm deploying experienced professionals to its clients at the executive & management levels for interim & project management assignments. Her responsibilities included oversight of the tech, green tech and life science practices as well as large Fortune 100 clients & small family businesses. She also headed up the AMS Business Solutions practice. Connie ran both the Boston & New York AMS Business Solutions practices.
Connie is a Stanford Alum and started her career at Deloitte & Touche